We are facing a new challenge. It's an event that is unprecedented in recent times and we are closely monitoring the evolving Coronavirus (COVID-19) impact to our communities. We know access to your money is an essential need during these times of volatility and uncertainty. We've always considered ourselves a source of strength and stability, and we want to be a resource of support, encouragement, and knowledge as you navigate the next few months. We've created a COVID-19 Resources post that will have continuous updates and additional programs throughout the next few weeks.
Our Priority is Safety for Customers and Employees
We have taken a number of steps to improve and prevent the spread of COVID-19 while working to continue the service levels you expect and deserve. We've asked our employees to stay home if they aren't feeling well, moved our meetings to a virtual environment, and limited travel between branches. We also have expanded our flexible leave policies to allow our employees the time they need to take care of themselves and their family members, and we are giving them the tools they need to stay healthy. If you visit our branches in person, you will also see that:
We have asked you use our fully staffed drive-ups or walk-ups to help everyone stay safe but are fully open in our lobby for all your transaction needs.
We've placed more hand sanitizer, disinfecting wipes and spray, and other personal protective items as recommended by the CDC in and around our lobbies.
We have installed plexiglass in our teller windows where walk-ups are not available to provide further safety for you and our employees.
We have masks available for all our employees and available upon your request during any personal transaction needs.
We know as your bank you rely on us for your financial support and banking needs. We are always available for calls and appointments. Just because we are working to bend the curve, doesn't mean we aren't here to be alongside you every step of the way. We want you and your business to prudently maneuver through this unprecedented time and will invest in every opportunity we can to provide the tools and resources to find a successful path forward.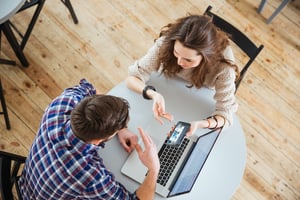 Going Digital: Many Tools Available to Bank at Home
24/7 your accounts are available through our online and mobile applications. Banking at home has never been easier than in today's digital age. Whether paying your bills, transferring money, depositing checks via the mobile app, or opening a new account, Flagship Bank has invested in the technology and tools to allow you to bank on demand. If you want more control of your debit card while you are at home, check out the Card Valet app. With CardValet you can protect your card from fraud by setting alerts or place controls to determine how your card can be used. And, if you misplace your card, you can use the app to turn it off and then turn it back on when you find it!
Relationship Bankers - Ask us Your Questions
We've built our business on working for you and supporting the changing needs for your business and personal lives. Experts in the PPP Loan Program for our Minnesota residents, we were very active in Round 1 loans and are ready for Draw 2 PPP loans. We're also monitoring the SBA Disaster loan programs and reviewing other regulatory support initiatives.
We're always ready to review your business and personal profile to find ways to work through these difficult times. Consider reading our blog on Questions to Ask in Managing through a Pandemic.
We are here to talk through how we may help whether it is setting up a business loan, credit card program, or a personal loan.
Stay Informed
The Center for Disease Control and Prevention (CDC) has an informative website to follow for recent developments and guidance to prevent and protect you and your loved ones from contracting and spreading COVID-19.
Be careful to watch out for scams. Unfortunately when people face tough times, crooks try to profit. The FDIC has provided this list as a warning and the Federal Trade Commission has provided some more recent examples of COVID-19 scams and what they are doing to stop them. Here is their quick list to watch out for:
Don't click on links from sources you don't know. They could download viruses onto your computer or device.
Watch for emails claiming to be from the CDC or experts saying they have information about the virus. For the most up-to-date information about the Coronavirus, visit the CDC and the

World Health Organization

(WHO).
Ignore online offers for vaccinations. There currently are no vaccines, pills, potions, lotions, lozenges or other prescription or over-the-counter products available to treat or cure Coronavirus disease 2019 (COVID-19) — online or in stores.
Do your homework when it comes to donations, whether through

charities

or crowdfunding sites. Don't let anyone rush you into making a donation. If someone wants donations in cash, by gift card, or by wiring money, don't do it.
This is a difficult time and we are here to help you get through it. Be smart and be safe. If you have any questions, please contact us.