If you're looking for that space separation between personal and professional, read below for our list of virtual workspaces in the Twin Cities that will allow for continued productivity without breaking the bank or your back.
The pandemic taught us a lot of things. Our credit card limits for online shopping, where the nearest take-out restaurant is, how many steps between the couch and the fridge, DIY home renovations, the battery life of our cellphones, and the elasticity of our sweatpants. Among other things.
One of the biggest things the pandemic taught us was the efficiency, productivity, and enjoyment of working remote. No long commutes in stop-and-go traffic, a better work/life balance, fewer distractions, positive environmental impact, and more comfortable clothing. No wonder 1 in 4 Americans will be enjoying virtual workspaces, or alike, by the end of 2021.
With that said, 72% of remote workers are lacking an adequate work space with 40% not even working from a dedicated desk. This resulted in a decline in physical and mental wellbeing. For example, the American Chiropractic Association Council on Occupational Health polled its members and found that 92% of respondents said they'd seen an increase in musculoskeletal conditions such as back and neck pain as a result of patients from working from home.
Ditch the back pain and hours spent at the dining room table. Find your comfortable, productive space away from home from our list below.
The Graduate Hotel is in the heart of the University of Minnesota campus, between the union and the football stadium. You'll find yourself sucked into the warm atmosphere with a jaw-dropping fireplace, communal tables, and a woodsy backdrop. A hub for students enjoying Starbucks in between classes or studying hard during finals week, the Graduate Hotel has free Wi-Fi, a gastropub, fitness center, air hockey tables, a picturesque bathroom, and of course lodging at a great price.
Where:
615 Washington Ave SE
Minneapolis, MN 55414
United States
Hours: Open 24 hours
Pricing: FREE
"A network of radical spaces for changemakers." The Coven is a virtual workspace (coworking) specifically dedicated to local women, non-binary, and trans people where members can grow, plot, rest, and thrive. Amenities include 24/7 access, private offices, conference rooms, childcare services courtesy of College Nannies & Sitters, partner discounts on events, guest passes, snacks and beverages, prayer space, bike storage, free parking, outdoor seating, and networking events.
Where: 2 locations
2429 Nicollet Ave
Minneapolis, MN 55404
United States
165 Western Ave N Suite 8
St Paul, MN 55102
United States
Hours:
Mon - Fri, 8:00 a.m. - 5:00 p.m.
Sat & Sun, CLOSED
Pricing: $25 - $225 per month depending on membership type.
Source: Pelli Clarke & Partners
Minneapolis Central Library is located in downtown Minneapolis and is the largest library of the Hennepin County Library public library system. Besides being a quiet workspace flooded by natural light, the library also offers free-to-use technology, networking events, learning opportunities for all ages, a piano room, meeting rooms, legal resources, and health and wellness opportunities. You'll be inspired and motivated in the home of 2.4 million collection items - including books, DVDs, music, government documents, and art. I should also mention that there are two levels of underground parking available.
Where:
300 Nicollet Mall
Minneapolis, MN 55401
Hours:
Mon, Tues, Thurs & Sat, 9:00 a.m. - 5:00 p.m.
Wed, 12:00 p.m. - 8:00 p.m.
Fri, CLOSED
Sun, 12:00 p.m. - 5:00 p.m.
Pricing: FREE
Locally owned and locally operated. OffiCenters has locations throughout the Twin Cities area, voted as the 2020 Largest Coworking Space by the Minneapolis - St. Paul Business Journal. Member benefits extend way "Beyond 4 Walls". Connections made there "drive your energy, productivity and bottom line". A survey conducted by OffiCenter showed that 78% of their members have seen an increase in sales since becoming coworking members.
Where: 7 locations (North Loop, Minnetonka, St. Louis Park, Woodbury, Bloomington, Edina)
Dock Street Flats
333 N Washington Ave #300
Minneapolis, MN 55401
5775 Wayzata Blvd #700
St Louis Park, MN 55416
3800 American Boulevard West Suite 1500
Bloomington, MN 55431
Hours:
Mon - Fri, 9:00 a.m. - 5:00 p.m.
Sat & Sun, CLOSED
Pricing: 5 different option ranging from $75 per day to $459 per month for a private office.
Work with a view? Yes, please. This library, named for a law librarian that served for 33 years, is on the top floor of the Hennepin County Government Center. Anyone is welcome to this hidden gem in Minneapolis, but you will have to go through a security screening process at the entrance - similar to the security at the airport. All worth it though to be able to gaze upon our beautiful Minneapolis skyline.
Where:
300 South 6th St #24
Minneapolis, MN 55487
Hours:
Mon - Fri, 8:00 a.m. - 5:00 p.m.
Sat & Sun, CLOSED
Pricing: FREE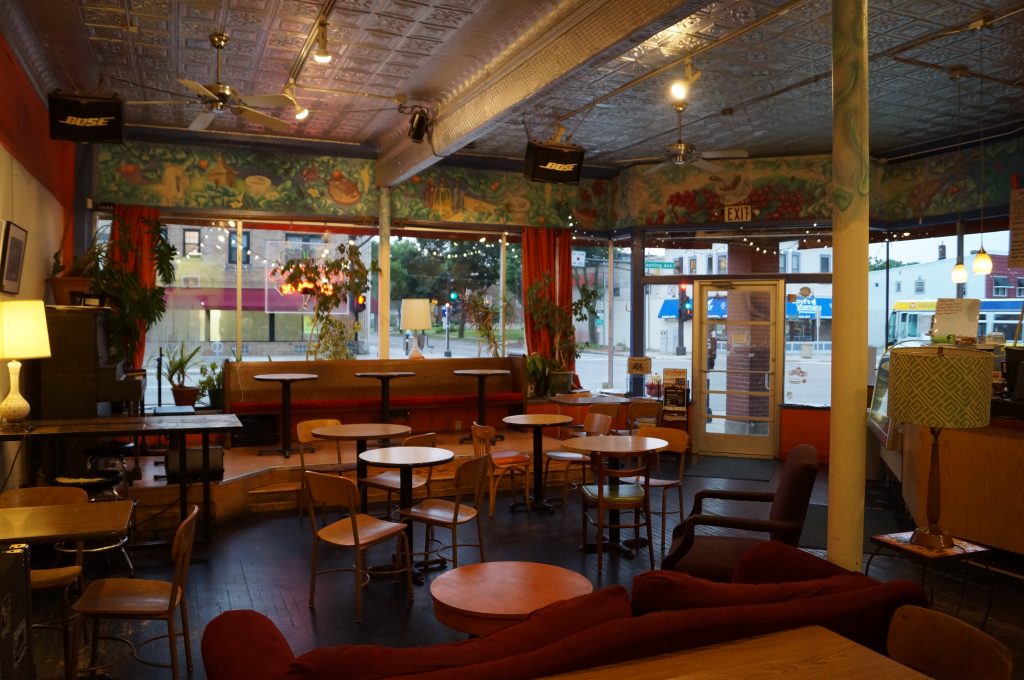 Everyone is welcome at this small coffee shop serving quality drinks and food at affordable prices. In addition to serving as a homey virtual workspace, it also provides gallery space for local artists, a children's play area, outdoor seating, and open mic nights for musicians from across the country.
Where:
721 Snelling Ave N
St Paul, MN 55104
United States
Hours:
Mon - Fri, 6:15 a.m. - 8:00 p.m.
Sat & Sun, 6:45 a.m. - 8:00 p.m.
Pricing: Check out their menu!
Similar to The Coven, Industrious is a co-working space, but it spans across 50 cities in the U.S and is open to all entrepreneurs - "whether you run a small business or major corporation". It is currently utilized by professionals at Hyatt, Lyft, Pfizer, Pinterest, Salesforce, Spotify, and more. Industrious combines "the flexibility and ease of coworking with the professionalism and attentiveness you'd expect when walking into a Fortune 500." Most memberships include access to Industrious spaces in any city, conference rooms, fully-stocked fridge, coffee, and tea, daily breakfast, weekly happy hour, fast and secure Wi-Fi, a dedicated locked desk, monthly events, wellness room, unlimited color printing, office supplies, and a community management team.
Where: 2 locations in Minneapolis
60 South 6th St Suite 2800
Minneapolis, MN 55402
323 N Washington Ave Suite 200
Minneapolis, MN 55401
Hours:
Mon - Fri, 8:30 a.m. - 5:00 p.m.
Sat & Sun, CLOSED
Pricing: 4 monthly plans to choose from ranging from $150 for one person to $5,405 for an office of 20+ people.
Here is a map of more coworking spaces in Twin Cities area.
The environmentally, professionally, and personally sustainable practice of working remote is here to stay. So find that separate virtual workspace that will allow you to be productive but still make connections with local community members and entrepreneurs.
For more information on how to work remote safely, check out our blog, Before You Zoom: Some Helpful Tips For Secure Virtual Meetings.